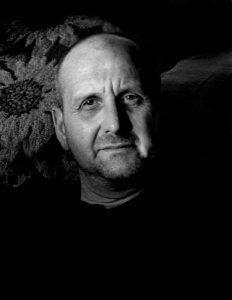 Best known as a highly-respected fine art erotic photographer, whose early work continues to influence the genre to this day, China Hamilton was a polymath with interests (and indeed, expertise) ranging from early music, motorcycles and guns to the restoration of antique clocks, Buddhism and herbalism.
If you've come looking for his erotic work, you'll find it here, featuring some of the very best examples of his work including rare one-off prints created using many of the complex photographic processes pioneered by China, through to his later intricate digital work; with images ranging from the tender and beautiful, to those exploring the darker sides of human sexuality.
If you're interested in delving a little further into this archive of China's life and work, you'll find so much more besides. Above all else, China was an artist and here are many of his drawings, paintings (including his earliest work at just 13 years of age), manuscripts (including several unpublished works) and poems. Also included is a bibliography of all his published work – books, magazines, articles and short stories, copies of reviews he has received, details of exhibitions where his work was exhibited and several photographic treatises written by China to describe the highly technical (and often toxic) photographic processes he developed.
Under His Life, you will find an even more eclectic selection representing some of China's more personal interests including photos, his many mechanical interests, his early music playing (with videos and tracks from his album) and other miscellanea.
In memory of China Hamilton (aka Nicholas Zeger Driver) – artist, poet, engineer, bodhisattva, mentor, lover and dear friend… a remarkable and beautiful man.
An extensive archival collection of China's work has been kindly lodged with and can be viewed at the Bishopsgate Institute in London.  See here for more details…
For those requiring more information about China or his work, please do feel able to contact by email to contact@chinahamilton.com.
China was also proud to support The Erotic Art Society which aims to promote and foster new and established talent from the erotic art world.
USE OF IMAGES
Please ASK by email if you wish to use any of the images shown on this site.
The copyright of all images on this site is the intellectual property of China Hamilton's estate.
Images may be licensed for publication and quality prints suitable for reproduction can be supplied, please email for further details of this service.